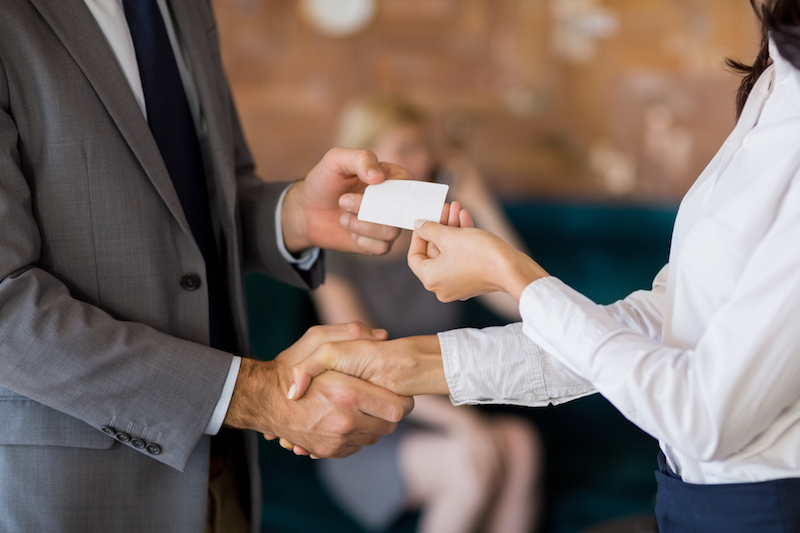 Even though in today's society there are a wide range of digital tactics to network, creating a print business card is still an effective option.  Designing a business card is one of the best ways to connect with others in your field and to gain new customers.  Giving your business card to someone is a guaranteed way to know that they have your contact and business information.  If you are in the midst of creating your own business card, you should follow a few current trends when it comes to business card design.
Simplicity Sells
When it comes to designing a business card, you want to make it as simple as possible so people can easily read all of the important information.  You do not want your design aesthetics to overshadow your contact information.  It is critical that your design for your business card is clean and concise so that your contact information and logo are the main elements.
Branding Is Key
When someone picks up your business card, they should be able to identify your brand and company quickly and easily.  You need to include elements that are tied to you and/or your company.  Make sure to include your name, business name, logo, and any identifying colors.  You want the colors on your color to align with your brand so that they when people see those colors they know it is your company.
Large Font
One of the most popular business card design trends for 2018 is including large typeface.  You want to people to be engaged and drawn into your business card immediately after they receive it.  Have your name or business name in big font so that people will remember it easily.  
For High-Quality Printing, Mailing, and Design at a Competitive Price, Trust Anderson Minuteman Press!
Anderson Minuteman Press has been providing printing products and services of the highest quality at a good price to businesses in the Baltimore/Washington area for over two decades. We listen to you and your needs in order to help you come up with solutions that can assist in achieving your goals. Our company is dedicated to exceeding your expectations through providing honest advice, innovative solutions, and friendly customer service. Give us a call today at (410) 590-5555 to find out how we can help your business thrive. You can also request an estimate by using our online contact form here. Follow our blog for more information and tips and check us out on Facebook, Twitter, Google+, LinkedIn, and Pinterest!