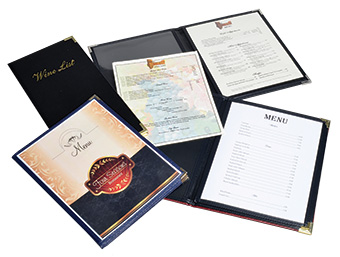 When entering a restaurant, you want to have a pleasant dining experience as soon as you walk through the doors.  One of the most crucial elements that go into a positive and memorable dining experience is the menu.  When designing a menu for your restaurant, you have to keep the guest in mind at all times.  The last thing you want is your guest to be confused reading your menu then negatively affecting their dining experience.  Luckily, there are a few menu design trends you can follow to give you some inspiration in your own design plan.
Minimal and Simple
When it comes to restaurant menu design, you want to make it as simple and minimalistic as possible.  Your guests want to navigate your menu quickly so they can get their orders in and eat as soon as possible.  You should keep the descriptions of each item short and simple, and lets the wait staff explain each item as needed.  It is best to have your menu to be one page, so you do not overwhelm your guests by having a novel-long menu.
Be Cautious With Pictures
If you want your restaurant to be known as elegant and formal, you should limit the amount of pictures and graphics on your menu.  Pictures next to each item are mostly associated with family and casual chain restaurants.  So if you are an independently run upscale restaurant, then be wise if you want to use a picture on your menu.  If you do use a picture or graphic, make sure it is extremely high quality and makes the item look appetizing to the guest.
Keep Dessert Separate
When designing your restaurant's menu, it is wise to keep your dessert selections off of your main menu.  This way you keep your guests guessing regarding what desserts you offer.  Having deserts on a separate menu makes your main menu look less crowded and gives guests a better chance of ordering an appetizer.
For High-Quality Printing, Mailing, and Design at a Competitive Price, Trust Anderson Minuteman Press!
Anderson Minuteman Press has been providing printing products and services of the highest quality at a good price to businesses in the Baltimore/Washington area for over two decades. We listen to you and your needs in order to help you come up with solutions that can assist in achieving your goals. Our company is dedicated to exceeding your expectations through providing honest advice, innovative solutions, and friendly customer service. Give us a call today at (410) 590-5555 to find out how we can help your business thrive. You can also request an estimate by using our online contact form here. Follow our blog for more information and tips and check us out on Facebook, Twitter, Google+, LinkedIn, and Pinterest!