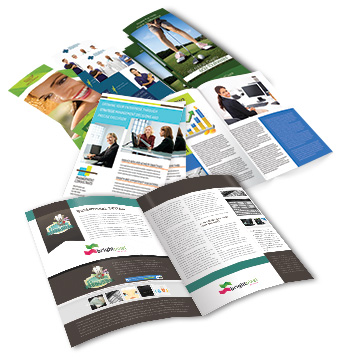 When planning your company's marketing strategy, it is critical that you implement traditional tactics as well as digital elements.  Even though social media is important in engaging your target audience, you should not forget about print materials such as brochures.  The leaflet is essential in informing potential customers about your business and is an effective way of gaining leads.  When designing a brochure for your marketing campaign, there a few tips you should follow so that it is engaging and informative.
Know Your Purpose
When creating marketing materials, it is vital to know your objective and the specific message you want to convey to your audience.  You need to know  why you are designing your brochure in the first place so it can be as effective as possible.  Are you rebranding your business?  Are you putting on a major event in the near future, or are you just using a brochure to gain new customers?  Once you know the purpose of your brochure, you can move onto to refining the details.
Pictures Are Key
When adding the content to your brochure, you should focus on the images and graphics which will ultimately grab the reader's attention.  No one wants to read anything without something visual to engage them and to encourage them to keep reading.  Images are critical to your brochure, and you need to choose images that align with your message and overall brand.  Avoid using generic images or stock photos that can be found in another company's brochure.  You should use company images for your brochure.
Call To Action
One of the most important elements of any brochure is the call to action because it allows readers a chance to respond to you.  At the end of your brochure, make sure to include your company's contact information and social media accounts.  You want to create a relationship with the reader long after they are finished with the brochure.
For High-Quality Printing, Mailing, and Design at a Competitive Price, Trust Anderson Minuteman Press!
Anderson Minuteman Press has been providing printing products and services of the highest quality at a good price to businesses in the Baltimore/Washington area for over two decades. We listen to you and your needs in order to help you come up with solutions that can assist in achieving your goals. Our company is dedicated to exceeding your expectations through providing honest advice, innovative solutions, and friendly customer service. Give us a call today at (410) 590-5555 to find out how we can help your business thrive. You can also request an estimate by using our online contact form here. Follow our blog for more information and tips and check us out on Facebook, Twitter, Google+, LinkedIn, and Pinterest!