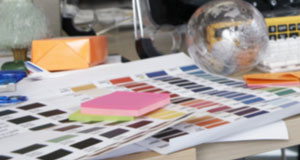 Whether you are a startup company or just reinventing yourself, a logo is vital in distinguishing yourself as an original brand.   A great and memorable logo involves a mix of creativity, design skills, and smart application.  A logo helps your company stand out from competitors, especially if you are already in a large crowd.  There are several things you need to consider to craft the perfect logo.  
Study Your Competition
The best logos from Nike to Coca Cola started with thorough research to help those companies devise an original concept.  An important step in research is to see what your competitors are doing and how their logos help define them as a brand.  This process helps you come up with a logo that is different that no one else has seen.   You can see what has worked, but what design concepts have not been executed well or at all.  
Color and Negative Space
The color selection for any logo is one of the factors that draw people into any advertisement.  So it is crucial to pick the right colors for your logo, and it helps if the colors are "on-brand".  Experiment with light and dark colors and the mixture of different color balance in your logo.  Lack of color is also a good technique, so be sure to consider negative space in your design.  The excess white space can be used to create an interesting design.  Check out Fed Ex's classic logo for the "hidden" arrow in their name.
Keep it Simple
Sometimes the most intriguing and memorable logos are the ones that don't have a lot going on.  Take Apple, for example; their logo is a simple apple with a bite taken out of it.  But, now most people think of the tech company when they see an apple over the actual fruit.  Keeping your logo design simple actually sets you out from the crowd.  
For High-Quality Printing, Mailing, and Design at a Competitive Price, Trust Anderson Minuteman Press!
Anderson Minuteman Press has been providing printing products and services of the highest quality at a good price to businesses in the Baltimore/Washington area for over two decades. We listen to you and your needs in order to help you come up with solutions that can assist in achieving your goals. Our company is dedicated to exceeding your expectations through providing honest advice, innovative solutions, and friendly customer service. Give us a call today at (410) 590-5555 to find out how we can help your business thrive. You can also request an estimate by using our online contact form here. Follow our blog for more information and tips and check us out on Facebook, Twitter, Google+, LinkedIn, and Pinterest!