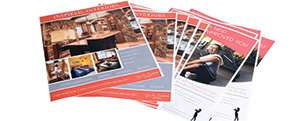 Need to advertise your big blowout sale or want to inform the public that you are offering a new service?  Even in today's digital world, flyers are still an efficient and eye catching way to promote your business.  They are an inexpensive printing service that can garner attention to your company and establish a new client base.  Create a professional flyer that makes people want find out more about your company!
Use a Eye Catching Headline
The first words on your flyer are the most critical because they make people want to read the rest.  Create a headline that is memorable and  that ties into your brand identity.  An effective headline grabs people's attention and makes them interested in what you have to offer.  
Keep It Brief and Concise
As we get older, the general population's attention spans are getting shorter and shorter.  So you need to be cautious on how much information you include.  Too much information can overwhelm a potential customer and also make it hard for them to digest everything.  Only put the most important information on your flyer like the location and time of your company's sale.  A great way to simplify your flier is to create bullet points.  Use them to list the benefits of your product or service.  It makes them easy to read and organizes all the key information.
Call To Action
If you want a potential customer to find information that is not on the flyer or to learn more about your company, you need to include a call to action.  This important piece to any flyer includes your business's phone number, website, and social media platforms.  It allows anyone to interact with you and can create a new customer base.  Every marketing tactic you use should include a call to action.
Proofread!
You don't want to lose credibility if you have misspelled words or the link to your website does not work.  Always edit your flier after it is complete and then give it to someone else to proofread.  Check if the phone numbers and website links work before sending out your flier.
For High-Quality Printing, Mailing, and Design at a Competitive Price, Trust Anderson Minuteman Press!
Anderson Minuteman Press has been providing printing products and services of the highest quality at a good price to businesses in the Baltimore/Washington area for over two decades. We listen to you and your needs in order to help you come up with solutions that can assist in achieving your goals. Our company is dedicated to exceeding your expectations through providing honest advice, innovative solutions, and friendly customer service. Give us a call today at (410) 590-5555 to find out how we can help your business thrive. You can also request an estimate by using our online contact form here. Follow our blog for more information and tips and check us out on Facebook, Twitter, Google+, LinkedIn, and Pinterest!