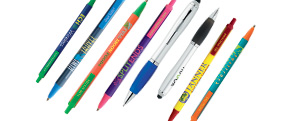 Sometimes a pen or a mug can have more of a positive impact on your business than a large scale advertisement.  Distributing promotional products has a wider outreach than you might think and is an effective branding strategy.  The price point for promotional products is drastically lower than traditional methods and can create more profit.  Sometimes gaining a new customer is as easy putting your logo on a mug.
Brand Recognition and Exposure
Having your name or logo on a household item creates long term brand exposure that is incredibly cost efficient.  Your brand will be in the minds of customers every time they use a product even if they have never used your service.  Promotional products have a greater reach than a traditional advertisement.  Whenever a person wears a company t-shirt in a public setting, that brand is being exposed to people beyond their target audience.
Creates a Positive Image
Let's be honest everyone likes getting stuff for free.  Handing out free merchandise to potential customers improves your company's reputation.  It also is a great conversation starter and offers a platform to talk about the benefits of your organization.  Also handing out products to your staff after they accomplished a goal is a great incentive.  Designing products that are associated with your organization will improve your image.  For example, if you are dentist office try handing out floss and toothbrushes with your company information on them.
Long-term Use
Traditional advertisements usually end when the campaign is over, but promotional products never have an expiration date.  Many products have day-to-day use like water bottles or pencils.  They are necessary products that people need in their daily lives and will reach a variety of people along the way.  People will begin to associate a certain product with your company and be engaged in trying your service.
For Long-Lasting Promotional Products at a Competitive Price, Trust Anderson Minuteman Press!
Anderson Minuteman Press has been providing printing products and services of the highest quality at a good price to businesses in the Baltimore/Washington area for over two decades. We listen to you and your needs in order to help you come up with solutions that can assist in achieving your goals. Our company is dedicated to exceeding your expectations through providing honest advice, innovative solutions, and friendly customer service. Give us a call today at (410) 590-5555 to find out how we can help your business thrive. You can also request an estimate by using our online contact form here. Follow our blog for more information and tips and check us out on Facebook, Twitter, Google+, LinkedIn, and Pinterest!