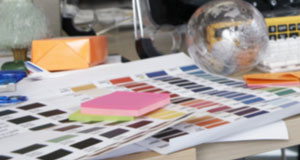 Logos are usually intended to act as the face of your business. They display your company's unique identity through a succinct visual representation and can be a critical part of your brand's identity. When combined with professional printing services, your logo can be utilized to its maximum potential. As a business owner, you may be wondering how you can design a quality logo and what that can do alongside professional printing services. Read on to find out more.
Establishing Brand Identity
A good logo is a sign that your brand has a cohesive identity and set of goals. When used alongside printing services, your logo will make your printed materials stand out among the crowd. Whether you're handing out flyers or creating a vinyl banner, your printed marketing materials will be immediately recognizable as uniquely belonging to you.
A Clear Message
Your logo should show off exactly what you do. If you own a coffee company, for example, you may want to integrate a mug of coffee into your logo. If that isn't the case, your brand name should be a clear indicator of what you do. This means that when people see your logo on printed materials, even if they have no previous exposure to your brand, they will quickly understand what your business does.
Easy Return on Investment
Developing a quality logo and combining it with printing services is a cost-efficient way to get your name out there. Hiring a graphic designer to create your logo won't break the bank, and printing services have a wide variety of budget options including flyers and direct mail marketing campaigns. If you want to see a huge return on your investment, a quality logo may be the best way to go about it.
For High-Quality Printing, Mailing, and Design at a Competitive Price, Trust Anderson Minuteman Press!
Anderson Minuteman Press has been providing printing products and services of the highest quality at a good price to businesses in the Baltimore/Washington area for over two decades. We listen to you and your needs in order to help you come up with solutions that can assist in achieving your goals. Our company is dedicated to exceeding your expectations through providing honest advice, innovative solutions, and friendly customer service. Give us a call today at (410) 590-5555 to find out how we can help your business thrive. You can also request an estimate by using our online contact form here. Follow our blog for more information and tips and check us out on Facebook, Twitter, Google+, LinkedIn, and Pinterest!