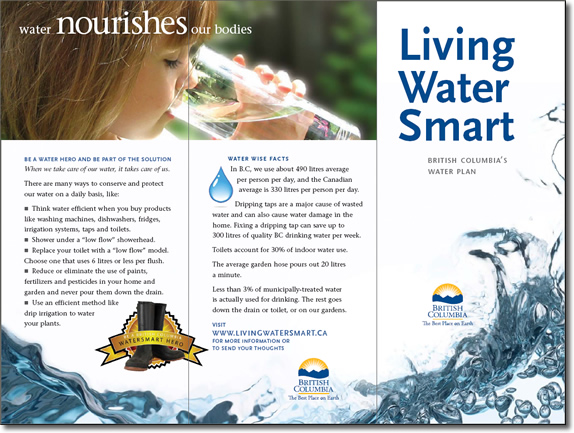 3 Tips for Effective Tri-Fold Brochure Design
The tri-fold brochure is a classic marketing tool that everyone is familiar with. Its sleek and simple design leads your target audience from point to point and can be an effective way to explain your services. Image heavy tri-fold brochures can be an especially fantastic way to reach your audience, as the visual appeal factor will make them want to pick it up and find out more. Here are our top 3 tips for effective tri-fold brochure design.
Using Templates
If your local printing company offers templates, you should make good use of them. It's often the case that the inside flap is designed to be slightly smaller than the outer flap. This makes for easy folding and opening. While you can certainly work on the design yourself and simply use your printer as a resource for getting copies made, it's easier to get the help of a printer and will result in a superior product.
Consider Order of Information
When designing a tri-fold brochure, remember that the front outer flap and back center panel are visible without opening the brochure. This means adding logos and describing your services  may be ideal for the front, while the back panel could be best for contact info or reviews. Upon opening, the inner flap becomes visible at the same time the start of the inside left is exposed. The inside, inner flap (which is the far right panel) is the last section people will see, so put your least important info there.
Try Big Designs
Typically, small tri-fold brochures are very column-based, which limits text to each panel appearing as  a column of words. This can give a sense of equal importance of all information. You can actually use designs that go across multiple pages of the pamphlet and bleed across panels, that way your audience has to open the whole thing to get the entirety of the message.
For High-Quality Printing, Mailing, and Design at a Competitive Price, Trust Anderson Minuteman Press!
Anderson Minuteman Press has been providing printing products and services of the highest quality at a good price to businesses in the Baltimore/Washington area for over two decades. We listen to you and your needs in order to help you come up with solutions that can assist in achieving your goals. Our company is dedicated to exceeding your expectations through providing honest advice, innovative solutions, and friendly customer service. Give us a call today at (410) 590-5555 to find out how we can help your business thrive. You can also request an estimate by using our online contact form here. Follow our blog for more information and tips and check us out on Facebook, Twitter, Google+, LinkedIn, and Pinterest!