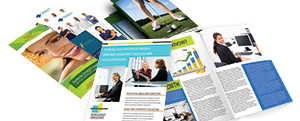 Although digital methods are dominating the marketing industry, print materials are still an effective way to expand your business.  Brochures are a perfect way to announce a new product and provide an overview of your company for potential customers.  Designing an effective brochure requires a balance of compelling images and informative copy.  Create a brochure that leaves a positive impression on the average consumer and a potential customer.  
Know Your Customers and Purpose
Before even typing out the text or designing an image for the brochure, you have to know why you are creating one in the first place.  What product or service are you promoting and who is your target audience?  When designing a brochure, it is important to know your customer very well and what your product or service can do for them.  Do proper research on your target audience and find out what tactics have worked to engage them in the past.  Also, know where and how you will be distributing the brochure.  Will it be through the mail or at an event where you will have direct contact with a potential customer?
Focus on the Cover
The first thing a person sees when they receive a flier is the cover, so it has to be engaging and interesting.  Focus on a captivating headline that grabs the reader's attention and makes them want to read on to the inside pages.  For your title and all headlines, make sure they describe a benefit of your product or service.  The headlines should tell the consumer what your company can do for them.  On the cover page, design an image that is creative and pulls the reader's interest.  The graphics for your brochure should accompany your text, but not take over the whole page.
Call To Action
One of the most vital pieces of a brochure is the call to action, which is what you want the reader to do after reading the material.  Do you want them to follow you on social media for updates or visit your website?  An effective way to garner a response from consumers is to include a coupon or a discount code that can be used before a certain date.  This way they have a time limit to use the coupon and potentially buy your service.  
For High-Quality Printing, Mailing, and Design at a Competitive Price, Trust Anderson Minuteman Press!
Anderson Minuteman Press has been providing printing products and services of the highest quality at a good price to businesses in the Baltimore/Washington area for over two decades. We listen to you and your needs in order to help you come up with solutions that can assist in achieving your goals. Our company is dedicated to exceeding your expectations through providing honest advice, innovative solutions, and friendly customer service. Give us a call today at (410) 590-5555 to find out how we can help your business thrive. You can also request an estimate by using our online contact form here. Follow our blog for more information and tips and check us out on Facebook, Twitter, Google+, LinkedIn, and Pinterest!