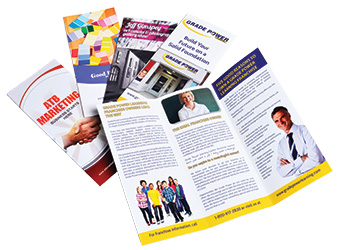 There are a variety of ways to execute a marketing campaign in today's business world.  Many companies utilize digital tactics to promote their products and services, but some print materials can be just as effective.  Creating and distributing brochures can enhance your brand and also help you widen your audience.  Discover a few of the benefits that can result from developing a brochure for your next marketing campaign.
In Depth Information
One of the greatest advantages of brochures for your business is that you can cover a large amount of information in small size package.  There are several sides to every brochure that you can fold up in an easy to deliver unit.  You have the ability to inform a consumer about your company's background and products and services, all in a pamphlet that can fit in a pant pocket.  When designing your brochure, take advantage of all of the space that is available to you.
Variety Of Ways To Distribute
Once you have finished creating your brochure, there are several ways you can distribute it to potential consumers.  You can hand it to people directly at events, send it through the mail, and even go door to door.  You can target a specific group of people by taking advantage of any of these distribution tactics.
Aesthetically Pleasing
Brochures are an attractive and clean way of connecting with a wide range of people. You can design your brochures to be as simple or attractive as you would like.  Brochures are a great way to express your company's creativity.  Make sure to include high-quality images to grab the reader's attention.
For High-Quality Printing, Mailing, and Design at a Competitive Price, Trust Anderson Minuteman Press!
Anderson Minuteman Press has been providing printing products and services of the highest quality at a good price to businesses in the Baltimore/Washington area for over two decades. We listen to you and your needs in order to help you come up with solutions that can assist in achieving your goals. Our company is dedicated to exceeding your expectations through providing honest advice, innovative solutions, and friendly customer service. Give us a call today at (410) 590-5555 to find out how we can help your business thrive. You can also request an estimate by using our online contact form here. Follow our blog for more information and tips and check us out on Facebook, Twitter, Google+, LinkedIn, and Pinterest!