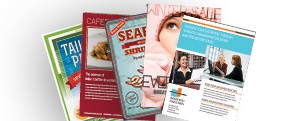 Sometimes the most effective marketing tactic is a piece of paper stuck to a wall.  Even though a larger portion of marketing is now digital, print marketing materials are still effective at delivering a message and connecting with consumers.  Print flyers allow you to be creative with how you want to execute your message.  Discover the never-ending benefits of using print flyers for your company's marketing campaign.
Simple To Design
When it comes to print flyers, they are very simple to design and execute.  There are a variety of design applications you can use on your computer.  You can design a flyer to be as simple or intricate so that you can send several copies out in a timely manner.  With advances in modern technology, you can design a flyer, print and distribute it in less than a day.
Simple To Read
Depending on the specific design, flyers can be the easiest print marketing tool to read and digest.  You do not need to include that many words on a flyer to grab a reader's attention.  When designing a flyer, all you need to include is the most important information, including your company name and contact info.  You can design your flyer so that all of your content is the focal point and it is large enough for people to read easily.
Instant Feedback
One of the most attractive benefits of print flyers is that you can receive immediate feedback from consumers.  If you are doing face-to-face marketing, you have the chance to explain your company and the flyer to individuals.  You can see how a person responds to the flyer and if they even keep it at all.
For High-Quality Printing, Mailing, and Design at a Competitive Price, Trust Anderson Minuteman Press!
Anderson Minuteman Press has been providing printing products and services of the highest quality at a good price to businesses in the Baltimore/Washington area for over two decades. We listen to you and your needs in order to help you come up with solutions that can assist in achieving your goals. Our company is dedicated to exceeding your expectations through providing honest advice, innovative solutions, and friendly customer service. Give us a call today at (410) 590-5555 to find out how we can help your business thrive. You can also request an estimate by using our online contact form here. Follow our blog for more information and tips and check us out on Facebook, Twitter, Google+, LinkedIn, and Pinterest!