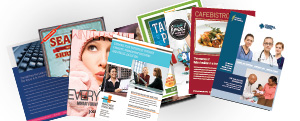 When it comes to distributing important information to the public, sometimes traditional methods are the most effective.  Even though digital tactics are widely used by businesses today, it is still wise to utilize print materials for marketing.  One of the most effective print marketing materials are flyers.  Whether you want to promote an event or just raise awareness for your brand, flyers are extremely helpful.  If you are in the midst of designing your company's flyers, you should follow these few simple tips to improve the overall design.  
Colors and Imagery
When it comes to having an effective flyer, it has to be engaging and eye-catching and to achieve that you have to use colors and pictures.  If someone is passing your flyer on the street or in a building, you want them to stop and look at your flyer.  So, you need to include bold and bright colors that catch their eye and make them read the information on the flyer.  Make sure to include high-quality picture or graphics that relate to your brand and message of the flyer.
Create A Sense of Urgency
Your flyer should include a section that directs your audience to complete a certain action by a specific date which creates a sense of urgency.  For example, create a flyer for an upcoming sale that your company is having, so people have to act quickly.  You don't want people to wait when buying one of your products because they will be less likely to follow through.  You want them to feel like they have to complete a specific action as soon as possible.
Balance Is Key
You should have a flyer that is balanced in term of design and content so that it is simple to read and understand.  You want to avoid creating a flyer that is clutter and includes too many design aspects such as graphics.  You want to make sure that there is enough blank space on your flyer that it look concise and as clean as possible.  Having a balanced flyer makes it look professional and polished.
For High-Quality Printing, Mailing, and Design at a Competitive Price, Trust Anderson Minuteman Press!
Anderson Minuteman Press has been providing printing products and services of the highest quality at a good price to businesses in the Baltimore/Washington area for over two decades. We listen to you and your needs in order to help you come up with solutions that can assist in achieving your goals. Our company is dedicated to exceeding your expectations through providing honest advice, innovative solutions, and friendly customer service. Give us a call today at (410) 590-5555 to find out how we can help your business thrive. You can also request an estimate by using our online contact form here. Follow our blog for more information and tips and check us out on Facebook, Twitter, Google+, LinkedIn, and Pinterest!