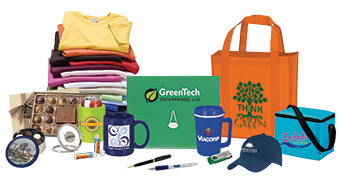 When it comes to marketing and advertising your company, one of the most effective ways is to invest in promotional products such as pens and shirts.  Promotional products are a great way for your business to get noticed and to potentially gain sales.  Before investing in specific products, you need to know which ones will resonate with your target audience.  Luckily, there are a few trends you should follow when it comes to promotional products in 2018.
Wireless Technology
One of the most in-demand promotional products for 2018 is wireless technology which includes portable chargers, headphones, and speakers.  Society revolves around technology, so it is natural for your company to giveaway technology devices to your customers.  Your business should invest in wireless devices because they are simpler and more convenient to use.  One of the best things about wireless technology is that whoever you give it to will likely use it constantly.  So your brand and logo will be with them every day.
Fitness Gear
Over the years, society has become more and more health conscious, so it is vital for your company to follow this trend.  Think about creating promotional products that will assist with exercise such as sports bags and towels.  You want to invest in products that your customers will use on a regular basis.  Plus, when they are working out, your brand name will be on display for everyone to see.
Practical Use
Even though promotional products are constantly evolving, you still want to hand out items that customers can use on a daily basis.  Consumers will always love and appreciate simple items such as writing utensils, notebooks, t-shirts, and phone cases.  You want to create products that consumers will use regularly without even thinking.
For High-Quality Printing, Mailing, and Design at a Competitive Price, Trust Anderson Minuteman Press!
Anderson Minuteman Press has been providing printing products and services of the highest quality at a good price to businesses in the Baltimore/Washington area for over two decades. We listen to you and your needs in order to help you come up with solutions that can assist in achieving your goals. Our company is dedicated to exceeding your expectations through providing honest advice, innovative solutions, and friendly customer service. Give us a call today at (410) 590-5555 to find out how we can help your business thrive. You can also request an estimate by using our online contact form here. Follow our blog for more information and tips and check us out on Facebook, Twitter, Google+, LinkedIn, and Pinterest!