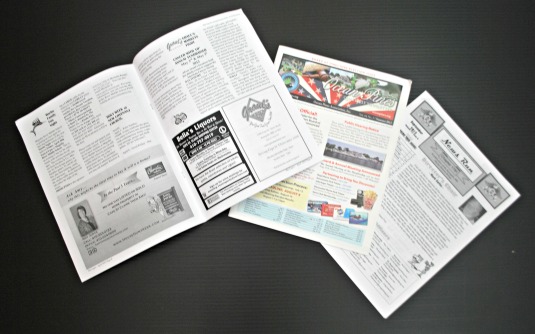 With businesses relying more and more on digital tactics such as social media for their marketing plans, traditional marketing tactics are becoming underutilized.  Although, traditional marketing tactics, including print newsletters, are the most effective at creating brand awareness and generating leads.  With print newsletters, you have the opportunity to create quality content that connects with your target audience while at the same time promoting your products or services.  There a wide range of benefits of print newsletters for expanding and improving your business.
Increase Brand Awareness
One of most attractive benefits of print newsletters is that you can improve your brand awareness among current and prospective customers.  Your newsletter is more than promoting your products or services; you have the opportunity to let people connect with your company.  A newsletter allows you to express your company's values and beliefs.  Once readers agree with your values, they are more likely to invest in your company.  Brand awareness allows you to make new customers and also maintain your loyal customers.
Expand Your Target Audience
When you create your print newsletter, you can reach people outside of your target audience.  A wide range of people read printed content they receive in the mail.  You can reach people that are not connected to the internet on a daily basis.  It is wise to connect with people outside of your target audience because it is essential to expanding your business.
Establish Expertise
With print newsletters, you can assert your business as one of the top resources in your field.  You want to be as professional as possible in your newsletter and create content that is more than promotional.  Cover issues that are important and timely in your field, and includes surveys and research that back your claims.
For High-Quality Printing, Mailing, and Design at a Competitive Price, Trust Anderson Minuteman Press!
Anderson Minuteman Press has been providing printing products and services of the highest quality at a good price to businesses in the Baltimore/Washington area for over two decades. We listen to you and your needs in order to help you come up with solutions that can assist in achieving your goals. Our company is dedicated to exceeding your expectations through providing honest advice, innovative solutions, and friendly customer service. Give us a call today at (410) 590-5555 to find out how we can help your business thrive. You can also request an estimate by using our online contact form here. Follow our blog for more information and tips and check us out on Facebook, Twitter, Google+, LinkedIn, and Pinterest!