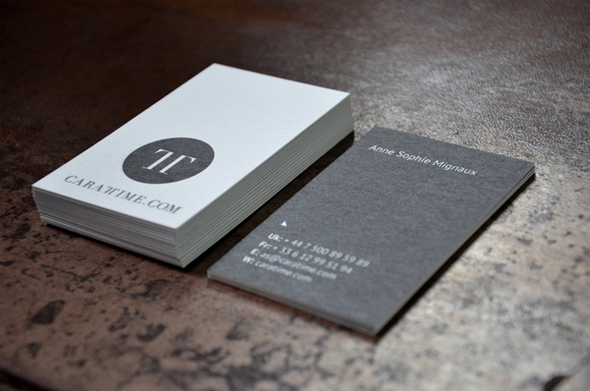 Even with the constant advancements in digital marketing, business cards are still one of the best ways to brand yourself.  Besides distributing key contact information to potential customers and colleagues in your field, business cards are essential in making a positive first impression.  Your business card needs to consist of elements that grab a person's attention and make them want to know more about your company.  Before you even begin to design your business card, you should be aware of the current trends to give you some inspiration.  
Simplicity is Key
The most important element of any successful business card is the contact information which should include you and your company's name, email, phone number, and website address.  So the design of your business card should highlight these details in the clearest way possible.  It is crucial to avoid any fancy designs that would distract anyone from the key information on the card.  Although your business card should be simple in design, you should have an attractive style and a setting that enhances the information.
Large Font
A major trend that is dominating business card design is the use big font type that dominates one side of the card.  Including your company name and tagline in large letters against a single color background will draw people into your card.  Once they are intrigued by the front of the card, they will want to turn it over to learn more and get your contact information.  Make sure the font size and type aligns with your brand and that you have used it in other marketing tools.
Die Cuts
Have fun with your business card design and branch out from the traditional solid rectangular shape.  Make your business card memorable by cutting out designs in the card or making the border a shape of an object that aligns with your brand.  The specific die cuts that you add to your card all depend on your brand and how you want to come across to your consumers.  Make sure that your design doesn't take away from the key information.  
For High-Quality Printing, Mailing, and Design at a Competitive Price, Trust Anderson Minuteman Press!
Anderson Minuteman Press has been providing printing products and services of the highest quality at a good price to businesses in the Baltimore/Washington area for over two decades. We listen to you and your needs in order to help you come up with solutions that can assist in achieving your goals. Our company is dedicated to exceeding your expectations through providing honest advice, innovative solutions, and friendly customer service. Give us a call today at (410) 590-5555 to find out how we can help your business thrive. You can also request an estimate by using our online contact form here. Follow our blog for more information and tips and check us out on Facebook, Twitter, Google+, LinkedIn, and Pinterest!