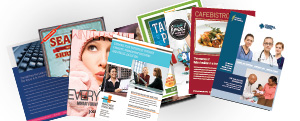 Whether you have a special event you need to advertise, or you want to promote a weekly meeting for the community, you need to enact smart and cost-effective marketing tactics.  Print flyers are still a highly effective traditional marketing tactic, and it could be the one item that drives high traffic to your event.  Perfect for small businesses or established companies, print flyers are a direct marketing component that can have a lasting effect on your consumers.  There are several ways print flyers can benefit your business.
Simple Yet Creative
Utilizing print flyers for your business allows you to communicate your message simply and easily.  A potential customer should be able to pick up your flier and understand your message with little effort.  Since most flyers are used to promote events, you don't need to fill up space with too much text.  Using fliers for your business allows you to be creative and expand your brand.  You can play with the colors or even the shape of your flier to create a unique marketing component.  People can absorb your information easily while being intrigued and entertained.  
Face To Face Contact
If you decide to pass out flyers in addition to hanging them up around a space, it allows you to have direct contact with potential consumers.  You can physically hand a flyer to a person, so they have a better chance of reading the information.  This interaction also allows you to connect with potential customers and create a relationship with them.  If you talk about what's on the flyer rather than having them just read it, they are more likely to support whatever you are promoting.
Incentives
Another benefit of creating flyers is that you can drive sales to your business.  You can easily include a coupon code at the bottom of the flier or even have people bring the flier into your store or event to receive a discount.  This allows you to measure the effectiveness of your flyers.  
For High-Quality Printing, Mailing, and Design at a Competitive Price, Trust Anderson Minuteman Press!
Anderson Minuteman Press has been providing printing products and services of the highest quality at a good price to businesses in the Baltimore/Washington area for over two decades. We listen to you and your needs in order to help you come up with solutions that can assist in achieving your goals. Our company is dedicated to exceeding your expectations through providing honest advice, innovative solutions, and friendly customer service. Give us a call today at (410) 590-5555 to find out how we can help your business thrive. You can also request an estimate by using our online contact form here. Follow our blog for more information and tips and check us out on Facebook, Twitter, Google+, LinkedIn, and Pinterest!