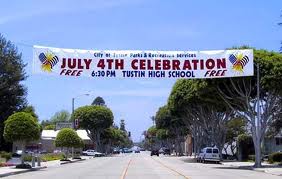 You are finally running your own shop, and your grand opening is in a few weeks, but now you need to advertise.  One of the most effective ways to promote your business and grab people's attention is large banner sign.  Even though it is a traditional way to promote your company or a special event, it still allows you to be creative and innovative.  We can help you discover several ways to create an effective and engaging banner sign.
Focus on Text Size
One aspect you have to keep in mind while creating a banner is that it is going to read from a distance.  All of the text on your banner has to be large enough to be read clearly by people that are across the street or a couple 100 feet away.  The rule of thumb for letter size is for every ten feet of viewing distance, the height of your letters should be at least one inch.  So if you display your banner in front of your business which is 30 feet from the street, the height of your letters has to be at least 3 inches each.  Make sure your sign is in a place that has maximum exposure to people on the street.
Keep it Simple (Stupid)
People are going to likely read your banner while either walking or driving by, so the content needs to be simple enough so people can understand your message quickly.  When you are creating the copy for your banner, think about the message and try to write it in as few words as possible.  The key to creating successful banner copy is to continually edit until you are ready to take it to print.  
Only High-Quality Pictures
One of the most effective ways to grab someone's attention with a banner is to include a picture or graphic.  Choose a picture that relates to your message and brand along with it being engaging to an audience.  One of the most crucial elements of a banner picture is that it has to be high quality.  Just like your text, the picture or graphic has to be seen clearly from across the street.  
For High-Quality Printing, Mailing, and Design at a Competitive Price, Trust Anderson Minuteman Press!
Anderson Minuteman Press has been providing printing products and services of the highest quality at a good price to businesses in the Baltimore/Washington area for over two decades. We listen to you and your needs in order to help you come up with solutions that can assist in achieving your goals. Our company is dedicated to exceeding your expectations through providing honest advice, innovative solutions, and friendly customer service. Give us a call today at (410) 590-5555 to find out how we can help your business thrive. You can also request an estimate by using our online contact form here. Follow our blog for more information and tips and check us out on Facebook, Twitter, Google+, LinkedIn, and Pinterest!