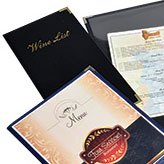 When wanting to have a successful restaurant, many factors come into play, from the food to the ambiance of the dining room.  It may seem like a small item, but the menu gives your guests the first impression of your restaurant and helps establish your brand.  A professional menu design allows patrons to navigate through all of your food selections easily and makes the meal go by smoothly.  It is important to take time in designing your menu to communicate with your guests effectively.
Organization is Key
Compose your menu into logical sections that allows the guest to find what they are craving quickly.  Your menu should go from appetizers to the entree to dessert and so on.  Guests tend read menus like a book, so your information should flow from the top left corner going down then up to the top right corner. It is important to not have too much text or images because guests may become overwhelmed.  Organize and edit your information before you start the design layout so it can make the rest of the design process run more efficiently.   
Descriptive Yet Simple
Excite and engage your guests with language that makes them want to try the dish right after they read about it.  Your description of an item should be straightforward and simple so the customer knows exactly what they are getting.  Don't confuse your guests with sophisticated cooking terminology that they have to look up on Google.  Make sure to use language that appeals to the senses such as warm, tangy, sweet, soft, etc.
Be Careful With Pictures
Including pictures of menu items can be tricky because the wrong photo can make the tastiest plate of food look unappetizing.  Make sure if you do include food photography, the pictures are extremely high quality and should be taken by a professional food photographer.  For more formal restaurants, the less pictures the better; leave the final product to the guest's imagination.
For High-Quality Printing, Mailing, and Design at a Competitive Price, Trust Anderson Minuteman Press!
Anderson Minuteman Press has been providing printing products and services of the highest quality at a good price to businesses in the Baltimore/Washington area for over two decades. We listen to you and your needs in order to help you come up with solutions that can assist in achieving your goals. Our company is dedicated to exceeding your expectations through providing honest advice, innovative solutions, and friendly customer service. Give us a call today at (410) 590-5555 to find out how we can help your business thrive. You can also request an estimate by using our online contact form here. Follow our blog for more information and tips and check us out on Facebook, Twitter, Google+, LinkedIn, and Pinterest!