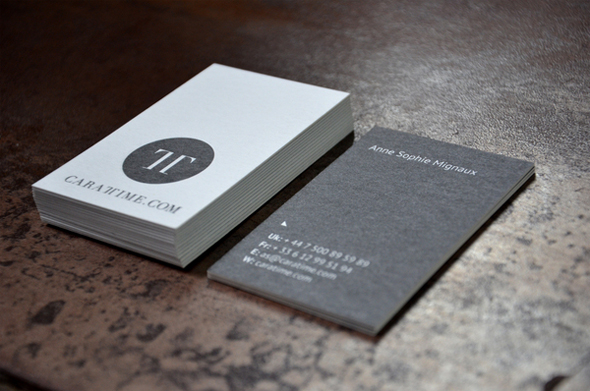 It doesn't matter if you are in business for yourself or representing a large corporation, business cards are a key way to brand yourself.  This simple paper card is often the first way a potential customer discovers you and gives them the opportunity to find out more.  There are several ways to make your business card engaging and memorable.
Make It Easy to Read
This may seem obvious, but the most important part of your business card is the information.  Your name, job title, and company should be displayed clearly and in an easy to read font.  Be sure to only include the most important information on your card; too much can make it look cluttered.  The smallest the text should be is 8 pt and make sure it is in a professional font like Times New Roman.  Once the important information is on the card, you can start on your creative design.
Pictures, Pictures, Pictures!
A picture speaks 1000 words, right?  A creative image on the back of the card can be the thing that attracts  potential customers to your business.  Start by thinking of what image defines your business.  Maybe it is as simple as a picture of yourself or the logo of your company.  Whatever the picture is, make sure it is eye-catching and makes sense with your brand.
Unique Shape
Almost every business card out there is a standard 55 x 88 rectangle.  Stand out from the crowd by making it an oval or in a shape that defines your business.  Having cut outs in your business card is another way to make it unique.  For example, if you are a nail technician try having a cutout for a person to fit their finger through the card.  
Stay True to Your Business
You might want to try a crazy shape or add bright colors to your card, but it might not make sense with your business.  Remember your business card is a representation of you, so simple might be better.  Whatever the case, design a business card that makes people want to contact you.
For High-Quality Business Cards at a Competitive Price, Trust Anderson Minuteman Press!
Anderson Minuteman Press has been providing printing products and services of the highest quality at a good price to businesses in the Baltimore/Washington area for over two decades. We listen to you and your needs in order to help you come up with solutions that can assist in achieving your goals. Our company is dedicated to exceeding your expectations through providing honest advice, innovative solutions, and friendly customer service. Give us a call today at (410) 590-5555 to find out how we can help your business thrive. You can also request an estimate by using our online contact form here. Follow our blog for more information and tips and check us out on Facebook, Twitter, Google+, LinkedIn, and Pinterest!