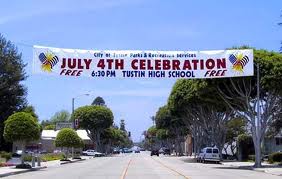 3 Reasons to Invest in Banner Printing for Your Business
Vinyl banners may seem like a rather old school marketing technique, but banner printing isn't going away anytime soon. They are known for being a lightweight, cost-effective, and durable way of getting your advertising campaign up and running. If you aren't sure how to use vinyl banners or why they might be great for you, we at Anderson Minuteman Press have the answers.
Versatility
Vinyl banners are able to be moved around and stored, which means you can use them for a variety of events. This is especially important if you're trying to set up shop at local festivals, trade shows, or cook-offs. They work  indoors and outdoors, so you can take your vinyl banner wherever you need it. Banner printing allows you the flexibility to reach your target audience however you would like and are great for both unique events or everyday usage.
Cost Effective
Banner printing is a low-cost option for those trying to amp up their marketing approach. They can be ordered individually or in bulk, and the more of them you order, the more cost effective it may be. Either way, they are cheaper than most other kinds of signs, which is a big reason why people use banners so often in their marketing campaigns.
Trackable
It's actually somewhat easy to track banner response. This can be done by including individual URLs on the banners, but bear in mind that some people may just be searching for your business online because they saw the banner instead of going directly to your unique URLs. Still, you'll be able to get a solid idea of how effective your banners are overall.
For High-Quality Printing, Mailing, and Design at a Competitive Price, Trust Anderson Minuteman Press!
Anderson Minuteman Press has been providing printing products and services of the highest quality at a good price to businesses in the Baltimore/Washington area for over two decades. We listen to you and your needs in order to help you come up with solutions that can assist in achieving your goals. Our company is dedicated to exceeding your expectations through providing honest advice, innovative solutions, and friendly customer service. Give us a call today at (410) 590-5555 to find out how we can help your business thrive. You can also request an estimate by using our online contact form here. Follow our blog for more information and tips and check us out on Facebook, Twitter, Google+, LinkedIn, and Pinterest!