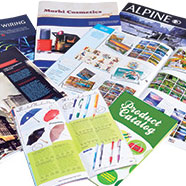 Why is Catalog Printing Back in Style?
Much like a lot of industries, catalog printing was hit hard by the Great Recession. Retailers were able to quickly cut cost by bolstering their web presence and getting rid of their physical print budgets. According to the Data & Marketing Association, since  2001, when they began collecting data, catalog mailings dropped to an all-time low in 2012. Lately however, retailers are returning to catalog printing as a viable form of print marketing as a result of an overall shift in how catalogs are used to reach customers.
Driving Web Traffic
Using professionally printed catalogs can be a fantastic way to drive traffic to your website. By including only a snippet of your selection--say, 20 pages of content instead of the standard 50--your consumers will be forced to go to your website instead. This has the added benefit of having an e-commerce element already in place, so ordering products is made even easier for the consumer. Plus, by creating shorter catalogs, you can save money on printing costs.
Easy Tracking
Determining your customer acquisition analytics through newer marketing techniques like broadcast spots or social media campaigns is still a relatively new and difficult science, but mailing campaigns have been around for a long time and can have more easily measured metrics. You'll know when your catalog goes out, when customers should receive them, and will be able to tell if there's a coinciding bump in sales or not. You can also create catalog-specific coupons so that you really know if your catalog printing is reaching customers or not.
High-Quality Content Marketing
Catalog printing is an excellent way to develop your brand. With high-touch print pieces that contain vivid stories or images, you will be able to speak to your customers on a different level than you could through a social media campaign. It should be seen as a way to differentiate yourself from competitors--if you have the similar products at a similar cost, why should consumers flock to you? Your catalog printing can be an effective way to show that you're a company rooted in ideas and progress.
For High-Quality Printing, Mailing, and Design at a Competitive Price, Trust Anderson Minuteman Press!
Anderson Minuteman Press has been providing printing products and services of the highest quality at a good price to businesses in the Baltimore/Washington area for over two decades. We listen to you and your needs in order to help you come up with solutions that can assist in achieving your goals. Our company is dedicated to exceeding your expectations through providing honest advice, innovative solutions, and friendly customer service. Give us a call today at (410) 590-5555 to find out how we can help your business thrive. You can also request an estimate by using our online contact form here. Follow our blog for more information and tips and check us out on Facebook, Twitter, Google+, LinkedIn, and Pinterest!