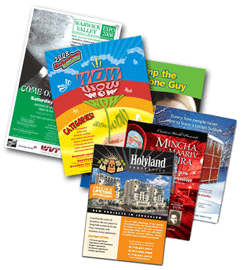 For some marketers, flyers are an archaic tool whose existence was necessary  in the past and have faded in usefulness since the birth of internet marketing. After all, millennials use the internet to communicate, so shouldn't that be how businesses reach them? The reality is that flyers remain an incredibly powerful marketing tool, even for reaching the younger crowd. Here's why we at Anderson Minuteman Press believe flyers are a powerful marketing resource.
Reaching An Audience
Part of the beauty of flyers is their flexibility. You can use them for door-to-door mail drops, as newspaper inserts, or even distribute them on the street. This flexibility of distribution methods is what makes them truly valuable.
Tangibility
These days, people are starting to remember how important having something to hold is. It's so easy for us to delete promotional emails or ignore a notification on our phone, but when we have a tangible promotional item, we have to do something with it. Even if your target customers end up  throwing it out, at least it actually reached them . There's a chance they'll catch a glimpse of it and realize it's actually something they're interested in!
Incentives
There's no better motivator in  getting customers to make more purchases than incentives. People love sales. If your flyers include coupons or sales promotions, regular and potential customers  will be on the lookout for them. This includes the younger generation who know the importance of saving a buck or two. By diversifying your target audience through included incentives, your flyers will become a critical part to your company's success in customer acquisition.
For High-Quality Printing, Mailing, and Design at a Competitive Price, Trust Anderson Minuteman Press!
Anderson Minuteman Press has been providing printing products and services of the highest quality at a good price to businesses in the Baltimore/Washington area for over two decades. We listen to you and your needs in order to help you come up with solutions that can assist in achieving your goals. Our company is dedicated to exceeding your expectations through providing honest advice, innovative solutions, and friendly customer service. Give us a call today at (410) 590-5555 to find out how we can help your business thrive. You can also request an estimate by using our online contact form here. Follow our blog for more information and tips and check us out on Facebook, Twitter, Google+, LinkedIn, and Pinterest!