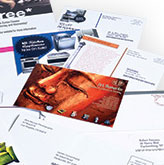 Here at Anderson Minuteman Press, our goal is not only to provide you with the professional printing materials you may need for your marketing campaigns, but also to help think of ways to properly utilize them. For small business owners in particular, a direct mail program is a great way to advertise. Not only are direct mail campaigns affordable, they also help establish your business as local and directly in-touch with the community. Here are a few ideas to consider when trying to develop a direct mail program for your business.
Knowing Your Target Customers
First and foremost, and this should be true before you begin any marketing campaigns, you must know what your target demographic is. It's important to try to get a grasp of potential customers' shopping and purchasing trends. This can be done via word of mouth, surveys, or watching the analytics on your web traffic.
Reaching Out To Your Ideal Customer
Once you've established who your ideal customer is, you need to figure out how a direct mail program will benefit them. Are you trying to bring in college kids who want to save money? Throw in coupons. Maybe you're going after stay-at-home parents who would benefit not only from your cleaning supplies, but also from some trending cleaning supply tips. Then you should include informative pieces in your direct mailing media as well. Marketers used to believe that the best direct mail campaigns reached as many people as possible, however, saving your resources and allocating your efforts towards those you really want to reach is a better use of your time and money.
Picking a Mailing List Type
With that said, the last step is actually choosing what kind of mailing list type you're going to use. At Anderson Minuteman Press, we're able to offer variable data printing to reach a specific individual. Specialty lists can help you identify your target audience, while custom mailing lists let you select the customer criteria that meet your specific needs.
For High-Quality Printing, Mailing, and Design at a Competitive Price, Trust Anderson Minuteman Press!
Anderson Minuteman Press has been providing printing products and services of the highest quality at a good price to businesses in the Baltimore/Washington area for over two decades. We listen to you and your needs in order to help you come up with solutions that can assist in achieving your goals. Our company is dedicated to exceeding your expectations through providing honest advice, innovative solutions, and friendly customer service. Give us a call today at (410) 590-5555 to find out how we can help your business thrive. You can also request an estimate by using our online contact form here. Follow our blog for more information and tips and check us out on Facebook, Twitter, Google+, LinkedIn, and Pinterest!