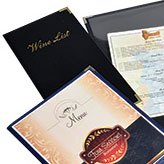 What's Important When Designing Menus
Any good restaurant also has a great menu. It's your eatery's goal to guide the customer through the dining options available with ease and simplicity; your menu should represent your restaurant's personality while also focusing on promoting profitability and keeping your brand fresh. Designing the perfect menu can be a challenge, but Anderson Minuteman Press is here to help.
Consider Your Audience
Are you a fast-casual pizza joint? You may just need a couple of large, children-friendly menus that are laminated. Using bold text and bright colors can really establish your eatery as a family-friendly operation. Maybe your restaurant trends toward high-end cuisine instead, in which case a more detailed and mature look is important. If you're unsure of where to begin, take a look at your competitors to see what elements of their menus you like or dislike.
Mimic the Dining Experience
Your menu should act as an extension of the food and service your business provides. Items should be arranged sequentially, so that whatever your customers may be eating first will be the first thing they see. A typical item arrangement might be appetizers, salads, and soups, followed by entrees or desserts. Photographs can also entice customers to order certain meals. So if you've got a special you want to highlight, consider putting a quality picture in your menu.
Mistakes to Avoid
Since menu design is so tricky, there are a few common mistakes. One of those common mistakes is sizing. Both font size and menu dimensions need to be just right to hit that sweet spot with the customer. Another common misstep can revolve around photos of your food. If photos are include in your menu, be sure that they adequately represent your food, as you don't want to mislead your customers.
For High-Quality Printing, Mailing, and Design at a Competitive Price, Trust Anderson Minuteman Press!
Anderson Minuteman Press has been providing printing products and services of the highest quality at a good price to businesses in the Baltimore/Washington area for over two decades. We will listen to you and your needs and help you come up with solutions to help you achieve your goals. Our company is dedicated to exceeding your expectations through providing honest advice, innovative solutions, and friendly customer service. Give us a call today at (410) 590-5555 to find out how we can help your business thrive. You can also request an estimate by using our online contact form here. Follow our blog for more information and tips and check us out on Facebook, Twitter, Google+, LinkedIn, and Pinterest!