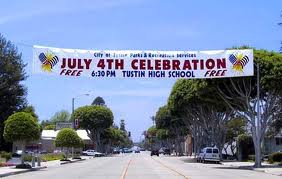 Businesses looking to get the word out about their products and services have a lot of options available, from online digital advertising to radio and print ads. Casting a wide net is the best approach - you want to be able to reach all of your potential customers. And while online advertising has taken off in recent years, professionally printed signs and banners should still be considered a critical part of any company's marketing strategy. Today we're going to consider the reasons why banner ads are good for your business!
Targeted
Banner ads can be used in a wide variety of circumstances to target your preferred audience and attract them to your business. Trade shows, sponsored events, or simply outside your business building are all potential places to hang up banner ads. Why waste resources on trying to reach customers outside your preferred demographic? Banner ads produce results because they can be placed where you need them.
Repetitive
Every time someone sees your banner ad, it reinforces your company name within their mind. In fact, banner ads can be seen more than once a day by the same potential customer if placed in a high-traffic area!
Reusable
If your business is highly active in your community and sponsors many local events, you'll find that a banner ad can provide a lot of bang for your buck. They are portable and can be made with durable materials that are easily cleaned, making them reusable for all of your special events and gatherings.
Effective
A sign that is professionally designed and printed has been shown time and again to be an effective means of advertising. Many people pay attention to signs as long as they catch the eye with graphics or a recognizable logo. This makes banner ads one of the most effective and cost-efficient means to advertise your business!
For High-Quality Printing, Mailing, and Design at a Competitive Price, Trust Anderson Minuteman Press!
Anderson Minuteman Press has been providing printing products and services of the highest quality at a good price to businesses in the Baltimore/Washington area for over two decades. We will listen to you and your needs and help you come up with solutions to help you achieve your goals. Our company is dedicated to exceeding your expectations through providing honest advice, innovative solutions, and friendly customer service. Give us a call today at (410) 590-5555 to find out how we can help your business thrive. You can also request an estimate by using our online contact form here. Follow our blog for more information and tips and check us out on Facebook, Twitter, Google+, LinkedIn, and Pinterest!