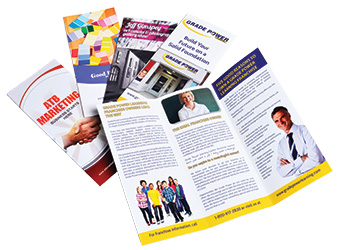 The internet and digital tactics such as social media are essential to marketing campaigns today, but that doesn't mean print materials are obsolete.  Traditional marketing tactics such as brochures are still effective forms of communication and have the potential to attract potential customers to your company.  For a marketing campaign to be truly successful, a business has to rely on a combination of digital and traditional tools convey their message.  There are several benefits to creating brochures and distributing them during your future marketing campaigns.
Information
One of greatest advantages of brochures is that you can communicate a large amount of information in a small printed item.  You can tell your target audience background information about your company, latest news on products and services, and end with a call to action within four to five tri-folds.  Compared to other printed items such as direct mail or an ad, you have more space to communicate to the public.  You also have room in a brochure to include a coupon or a discount code.
Versatile
You can to distribute a brochure a variety of ways whether it is through the mail or in person.  Many offices that experience heavy customer traffic will have brochures sitting at the front desk for people to pick up and read.  When a company is traveling and making presentations, brochures are great items to hand to prospective customers.  You can also mail brochures to prospective customers as a part of your direct mail material.
Marketing Kits
Brochures are an essential addition to any marketing or media kit your business will send to news media in hopes they will write promotional stories you.  Brochures are a great way for the news media to know about your company.  You can also include brochures in any giveaways or promotional packages you give to the public.
For High-Quality Printing, Mailing, and Design at a Competitive Price, Trust Anderson Minuteman Press!
Anderson Minuteman Press has been providing printing products and services of the highest quality at a good price to businesses in the Baltimore/Washington area for over two decades. We listen to you and your needs in order to help you come up with solutions that can assist in achieving your goals. Our company is dedicated to exceeding your expectations through providing honest advice, innovative solutions, and friendly customer service. Give us a call today at (410) 590-5555 to find out how we can help your business thrive. You can also request an estimate by using our online contact form here. Follow our blog for more information and tips and check us out on Facebook, Twitter, Google+, LinkedIn, and Pinterest!