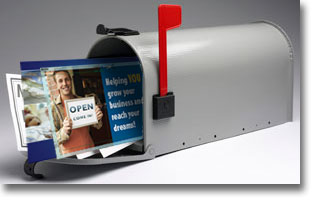 Although online advertising tactics are heavily used during marketing campaigns, traditional methods can still be extremely effective.  One of the best ways to reach your target audience during a campaign is direct mail marketing.  You can send current and potential customers brochures or catalogs promoting your company.  Direct mail marketing is an effective way to promote a new product or a company-wide sale.  There are several reasons to take advantage of direct mail marketing during your advertising campaign.  
Highly Targeted
A direct mail campaign can be designed for loyal customers to potential ones.  Any business can purchase mailing lists of potential customers through a distributor and target a specific demographic.  For example, a woman's clothing store owner can order a list of people who order lingerie in their market.  The owner now can prepare a direct mail campaign targeting these people who will hopefully shop at their store.  A direct mail campaign only targets people who have buying habits that align with the specific campaign.  
Personalized
Advancements in technology have made it possible for companies to address people by name in their direct mail campaigns.  This is an effective tactic because it makes the person receiving the brochure or sales letter feel like the owner of the company is speaking directly to them.  Having a specific person's name on a direct mail component, makes it more likely for them to read it and hopefully make a purchase.
Easy To Measure
In addition to direct mail being an effective part of a marketing campaign, it is also easy to measure its success.  After customers receive a specific direct mail piece, you just need to count the numbers of responses to that piece.  Measuring the success of a coupon in a direct mailing piece is easy as well.  All you have to do is count the number of coupons that were redeemed at all of your stores.  
For High-Quality Printing, Mailing, and Design at a Competitive Price, Trust Anderson Minuteman Press!
Anderson Minuteman Press has been providing printing products and services of the highest quality at a good price to businesses in the Baltimore/Washington area for over two decades. We listen to you and your needs in order to help you come up with solutions that can assist in achieving your goals. Our company is dedicated to exceeding your expectations through providing honest advice, innovative solutions, and friendly customer service. Give us a call today at (410) 590-5555 to find out how we can help your business thrive. You can also request an estimate by using our online contact form here. Follow our blog for more information and tips and check us out on Facebook, Twitter, Google+, LinkedIn, and Pinterest!